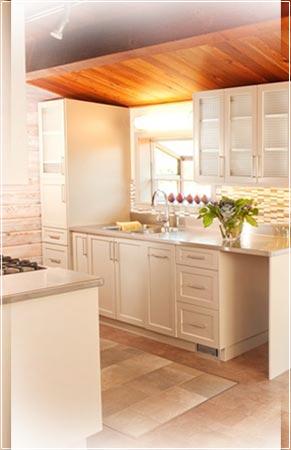 My Thoughts on Green Renovations
Monday, April 13, 2009 - 1:30pm
I have been having some strong feelings about renovations lately. Undertaking a renovation in your home is your first step in "going green". There are so many wonderful older homes that just need a bit of TLC and a hammer to reveal their true "hidden" potential. Campbell River has so many new homes being built, while the resale home market flounders. New homes, no matter what innovative materials are used, are not GREEN and eat up more environmental footprint than anything you can imagine. Everybody likes new – so do I, but new has now become my last resort.
I am encouraging my clients to redo (not replace) their kitchen or bathroom cabinets, use and refinish their existing furniture, and learn to enhance and once again love the things they already own. The days of ripping out existing cabinetry and taking it to the dump are over. At the very least, almost everything in a renovation can be recycled to your local Habitat for Humanity Restore or other recycling center. Old cabinets can be repainted with new hardware and new accessories and look fantastic.
Take a look at the Cedar Avenue Condo on the website. The kitchen cabinets were repainted inside and out for about 1/10 the cost of buying new. A new tile countertop and some undercounter lighting made it all look fantastic.
And…on the South McLean house, we took an old low white thermofoil bath vanity, built a base to raise it up, installed some inexpensive legs and new countertop – VOILA! A modern stand-up vanity that is very chic.