We were fortunate enough to be contacted by a local contractor in need of construction documents for a new fishing resort in Nootka Sound in late 2009 – Moutcha Bay Resort. It has been a fun, challenging, and sometimes dramatic project that has given us the opportunity to test our talents at construction documentation, exterior design, and ultimately to the design and fixturization of all the interiors.
Another dream project for our team!
The Concept Stage and Drawings
The contactor asked me to develop a building envelope that was 30'x120' – two floors – with reception, restaurant, public washrooms, and a fish packaging room on the first floor and guest suites on the second floor. Once the CAD drawings were started and the 4.5/12 metal shed roof designed, we discovered when we rendered it in 3D, that we could add lofts to the guest suites for additional guest accommodations – BONUS! Chief Architect 3D Software comes through again! Soon, we had 3 floors and 9000 square feet to build.
Construction documentation started in earnest and detail drawings for elevations, stairwells, window design and sizes, doors, etc., were put together fairly quickly. The contractor and I had lots to talk about with exterior detailing that included outrigger beams, trellis work, totems and beautiful cedar doors carved by the local First Nations band.
The Time Line
We started the building design in January and had the basic layouts to Heidema Engineering and Island Truss in early February. Chatwin Engineering provided the environmental plans and specifications and worked with VIHA on the overall site plan for power and water energy consumption. Additionally we used Terratek Energy Solutions for the solar power design.
Structural engineering is always a critical part of any ground-up (and renovation) project. I couldn't have survived without the patience and help of the staff at Heidema Engineering on such a large project.
The owner and contractor wanted to start building in April with completion by summer's end, but alas, that proved a bit aggressive. The site work to develop new road systems, infrastructure for solar and generator power, water, and sewage took months. Blasting and other site work continues for other parts of the project, such as a new pump house/shop building for the new well, out-stations for future power and water, and more roads to future home sites and free-standing guest accommodations.
We finally started to lay out and pour the foundation in early May and things started to move pretty quickly. The project is about 2 hours by car west of Campbell River between Gold River and Tahsis. Once the foundation was poured and framing on the main building started, I finally took a trip out to see the project. I cannot begin to describe the feeling of seeing that big building in person after looking at it on my little computer screen for so many months. I was equally unprepared for the beautiful setting on the shore of Moutcha Bay in Nootka Sound. WOW!
Building #2 – The Mechanical Building
Andrew, our contractor, has a reputation for getting buildings up quickly. I could barely get drawings done and approved by the owners before he had foundation poured and framing started! We quickly determined that a separate building for sewer plant, generators, and batteries was needed to accommodate the entire infrastructure to the lodge and the rest of the site. They asked me to design another 30×30 building with 2 stories to accommodate all this equipment. Working with the structural engineers, electrical designers, and environmental engineers takes a bit of time. Everyone needed to lay out their equipment in the rooms, design and engineer it, price it, and get approval from the owner. We were running like mad to get it all accomplished. Meanwhile Andrew had started the foundation and framing in order to catch the good summer weather and keep crews busy and efficient. I finally gave up trying to catch him and just sent him the almost completed drawings and said "please give me an 'as built' with dimensions"! A little bit backwards…but it all worked out just fine and the mechanical building went up without a hitch.
Exterior Design – Wood First!
We started the exterior design during the construction documentation phase starting with the concept of "modern yet rustic" fishing lodge using cedar siding, a standing seam metal roof, and cedar beams and trim. We used a custom Russet solid stain for the siding and kept the vertical beams in a natural state with a clear finish. We used Cloverdale Sunfast for the natural finish – it is a little orange for my personal taste, but it is offset with the other colors. Originally, the solar panels were to be placed on the front of the building. We subsequently learned that we could not quite get the correct angle from the front, so they had to be placed on the roof. That left the fascia front with no finish. We considered Hardi Shingle, Certainteed Shingles and Cedar. Ultimately, the wood shingle was less expensive and more suitable to the wet environment. We continued our "Wood First" philosophy to the knotty T&G cedar soffiting as well (in favor of vinyl soffiting). That left us with two more color choices to make! The siding is fairly dark and I didn't want the cedar shingles to be the Sunfast color. I got small test tins of all the Sikkens stain products and started painting samples. Using just one foamy brush, I mistakenly didn't clean it up between colors. This led to the perfect choice – 1 part mahogany, 4 parts cedar – a perfect compromise color to bring the building back into harmony, and no orange! We kept the knotty cedar soffiting natural in color – clear varathane finish was used.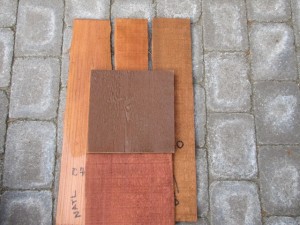 As for the rest – we used a dark mahogany colored paint on the PlastProPlank fiberglass doors, almond beige on the Allied Windows (Canadian made), and dark comb face cedar trim. All other exterior metal surfaces are oil rub bronze.
She's coming together…Can't wait for the rest of the "jewelry" to go on – lighting fixtures, railings, outrigger beams, and the totems!
Stay tuned!